So this is my Fairy team.

ROSALIND FRANKLIN (Sylveon) (F) @ Leftovers
Ability: Pixilate
EVs: 252 HP / 4 SpA / 252 SpD
Calm Nature
- Hyper Voice
- Wish
- Protect
- Toxic

I chose Sylveon because of its ability to easily absorb special hits. It usually can come in on Special attacks and toxic the opponent, or use Hyper Voice for a huge amount of damage. Hyper Voice gets STAB and can do a good amount of damage; going through Substitute is a good bonus. Wish gets back HP for sylveon or another team member. Protect can combo with both Toxic and Wish by giving an extra turn to heal and get Toxic damage off. Toxic is necessary to counter stallers and helps against all Pokemon.

WATSON AND CRICK (Mawile) (M) @ Mawilite
Ability: Intimidate
EVs: 248 HP / 16 Atk / 244 SpD
Adamant Nature
- Iron Head
- Play Rough
- Sucker Punch
- Swords Dance

I chose Mawile because its Mega Evolution is the primary sweeper for Fairy. It comes as a late-game sweeper once most threats are mitigated by Klefki,
Togekiss, Clefable and Sylveon. Iron Head gets STAB and is Mawile's primary attack, able to KO either with or without a Swords Dance boost. The Flinch chance is also nifty, especially with Paralysis. Play Rough is mainly for the coverage Iron Head cannot provide, and also can lower the opponent's attack, which is great against Ground types. Sucker Punch is mainly used for faster sweepers and Ghost types. Finally, SD effectively provides quadruple Mawile's attack in one turn, giving it a huge offensive presence.

CHARLEY DARWIN (Clefable) (M) @ Leftovers
Ability: Magic Guard
EVs: 252 HP / 252 Def / 4 SpA
Bold Nature
- Moonblast
- Flamethrower
- Soft-Boiled
- Calm Mind

Clefable is here as the primary set-up sweeper and special defender, granted it can CM. With a great ability in Magic Guard, it can help against walls that would Toxic other members of the team. Moonblast is Clefable's most powerful move that can devastate foes when CM'd. Flamethrower catches Pokemon such as Scizor, Ferrothorn, Forretress and anything weak to fire by surprise. Soft-Boiled is used to regain health in case Clefable needs it. Calm Mind is Clefable's go-to move, as it sets up for huge attacks and insane SDef.

MARIE CURIE (Togekiss) (F) @ Leftovers
Ability: Serene Grace
Shiny: Yes
EVs: 252 HP / 4 SpA / 252 SpD
Calm Nature
- Thunder Wave
- Air Slash
- Roost
- Heal Bell

Togekiss is used to cancel out possible sweepers with its great bulk and great ability. It can come in on Choiced Sweepers going for EQ, Special sweepers, etc. Thunder Wave slows sweepers and sets up for pressure with Air Slash and also provides a gift to Mawile. Air Slash can hit for a decent amount and oftentimes flinches the target, which is Togekiss' best asset. Roost can heal up damage if Togekiss has taken a lot; and heal bell can cleric for its teammates.

SALLY RIDE (Klefki) (F) @ Leftovers
Ability: Prankster
EVs: 252 HP / 252 Def / 4 SpA
Bold Nature
- Spikes
- Thunder Wave
- Draining Kiss
- Reflect

I chose Klefki because it is a great opener and helps its teammates out. It opens the match and is used to attempt to set-up for quick damage through its teammates. Spikes is used for Hazard stacking for easier sweeps, Thunder Wave can get some early pressure out that is needed for the late-game, Draining Kiss is used to recover damage while also dealing some damage; it is Klefki's main recovery as a wall. Finally, Reflect can mitigate some damage from Physical Attackers.

NIELS BOHR (Whimsicott) (M) @ Leftovers
Ability: Prankster
EVs: 248 HP / 8 SpA / 252 Spe
Timid Nature
- Substitute
- Leech Seed
- Taunt
- Giga Drain

I chose Whimsicott for Grass support and to shut down walls. It can come in on walls and shut them down. It Taunts to shut down the walls, then Leech Seeds for damage. It then Substitutes to prevent attacks that aren't Sound-based. Behind the sub, it Giga Drains for more health.


_________________




Poison for life!
OC's:

Kraljica Svinec - Naganadel



Status

:


Posts

: 1140


Join date

: 2014-11-29



One thing to be edited about this
so common
Fairy Team:
SALLY RIDE (Klefki) (F) @
Light Clay
Ability: Prankster
EVs: 252 HP / 252 Def / 4 SpA
Bold Nature
-
Light Screen
- Thunder Wave
- Draining Kiss/
Foul Play
- Reflect
Spikes can be helpful, but Klefki is way better as Screen Set Up and Foul Play can be useful to pokemon trying to set up on your face then kill you even behind reflect
I also would like to recommend to add one of the ff: (better if you get both)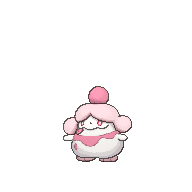 Voice





Status

:


Posts

: 587


Join date

: 2015-02-06



Added both suggestions. I removed Whimsicott for Slurpuff since Screens work extremely well with it.
Last edited by Sabre on Wed Jun 03, 2015 1:14 pm; edited 1 time in total
_________________




Poison for life!
OC's:

Kraljica Svinec - Naganadel



Status

:


Posts

: 1140


Join date

: 2014-11-29



ROSALIND FRANKLIN (Sylveon) (F) @ Leftovers
Ability: Pixilate
EVs: 252 HP / 4 SpA / 252 SpD
Calm Nature
- Hyper Voice
- Wish
- Protect
- Toxic Heal Bell

You will want Heal Bell over Toxic, since Toxic looks like a filler move there. Since you have a Mawile, and you're adding Slurpuff (Both Sweepers), you might aswell have Heal Bell to heal off status like Burn, Paralysis etc.

WATSON AND CRICK (Mawile) (M) @ Mawilite
Ability: Intimidate
EVs: 248 HP / 16 Atk / 244 SpD 252 HP / 252 ATK / 4 SpD OR 172 HP / 252 Atk / 84 Spe
Adamant Nature
- Iron Head
- Play Rough OR Fire Fang (164 Speed if Fire Fang to outspeed Skarm)
- Sucker Punch
- Swords Dance

You don't need that bulk on Mawile, since that set is for Ubers to deal with Kyogre. For my own self, I didn't like bulky pokemon that takes hits to hit back. So, I always placed speed in setup mons and bulky mons, in order to hit first before they inflict damage. Fire Fang is a move you can consider to deal with Steel types, a thing Fairy struggles with.

Doing the other mons later, GTG >.<



Status

:


Posts

: 7


Join date

: 2015-03-22





Similar topics
---
Permissions in this forum:
You
cannot
reply to topics in this forum